When I started working in IP, I was amazed how little I'd thought about inventions and new ideas. It was an eye-opener to realise the simplicity of the nature of innovation. Every great idea starts with a need to change, a need to make life easier or a need to make things more efficient.
A few months ago I came across BundleBean, an innovative range of travel products designed to help protect babies and young children in all weathers. It's an idea so simple I was surprised it hadn't been done before, so I decided to call inventor Emily Goodall and find out more.
The IP blanket
"When I became a parent, I wanted to limit the amount of stuff I needed to carry around with me", explained Emily. "I didn't want to carry a blanket, rain cover, changing mat etc. I wanted one accessory that could do everything and keep the baby warm and dry."
A multifunctional product, BundleBean's clever adjusting system means that just one product can be used for every situation at every age. At the time of development, there was no product like this on the market. This meant that there would be a high number of potential customers but also be many competitors looking to take a slice of her success. So how did she ensure this risk was minimised?
"People advised me to seek IP protection due to the innovative nature of the product", said Emily. "We were the first people in the market so IP protection gave us a hold over it. It really made it hard for anyone else to duplicate our products."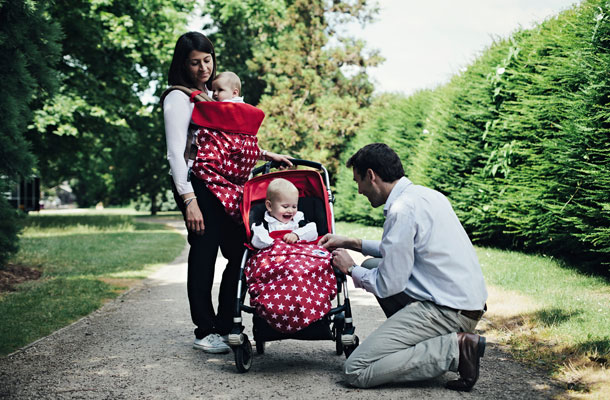 Designing the future
Emily has a registered trade mark on the BundleBean name and holds a registered design for the product. This protects the shape, size, fleece lining, the positioning of the features and its waterproof textile which make the BundleBean unique.
"I was advised that registered designs would be more valuable to me than any other form of IP as it would protect the look and feel of the BundleBean", Emily explained. "This would make it hard for anyone else to replicate the product."
Protection against copycats is one of the main benefits of holding a registered design. But what other benefits does it right offer the business?
"It's reassuring to know your identity is safe with protected IP. It's encouraging for retailers, distributors and investors to know you are protected as they don't want to invest their time and money into something that could easily be replicated by others."
During our chat, Emily was keen to point out that once a design is registered, it doesn't mean it's immune to attracting unwanted attention. Design infringement is something that still occurs. I asked how she would feel if somebody tried to pass off another product as a genuine BundleBean?
"If someone produced a product that was similar but didn't step on my toes, I could use that to my advantage to boost the BundleBean brand as it shows there is a need out there for it. But if they used my name or a version of my product, it would be a very different matter. Copying has happened to people I know and it can be a very costly action."
Professional and secure
"If you see someone trading with your products and you know they are counterfeit, seek advice straight away."
"Get lots of IP advice from professionals", she stressed. "A professional will advise you on what is best for your business. They could stop you from spending a lot of money on things that aren't relevant or won't protect your product or company.
"It's also important not to speak to anyone without a Non-Disclosure Agreement (NDA) in place. This means all discussions must be treated confidentially and information cannot be shared with anyone else. I spoke to many people in the industry prior to protecting my IP and made them all sign NDAs as an extra layer of security."
With two highly successful products already on the market, what does the future hold for BundleBean?
"I'm planning on expanding the company worldwide", Emily revealed. "I'm also adding to my range and applying for more registered designs for more products."
If you're a designer looking for more information on how protecting your IP could help you grow your business, our free online IP Equip tool can help you understand more.
To keep in touch, sign up to email updates from this blog, or follow us on Twitter.