Trevor, who was without doubt one of the best known British inventors, sadly passed away on 5 March 2018 at his much loved home on Eel Pie Island, Twickenham.
His early life is well documented.
After leaving the army in 1961, his work as a stunt man brought him into contact with disabled people, through friends whose injuries had ended their performing careers.
In 1985 this led Trevor to invent and develop a range of products for the disabled, called Orange Aids. They helped people with limited mobility or who were confined to wheelchairs to hold onto and move objects such as books and kitchen equipment. However, he still remains best known for the 'clockwork' radio which still appears in lists of the best British inventions.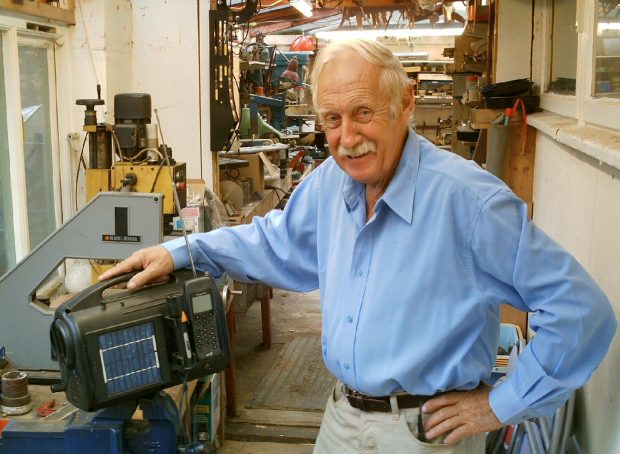 On Friday 13 March I travelled to Mortlake Crematorium, Richmond to represent the IPO at his funeral. I arrived early and was greeted by David Bunting, CEO of Baylis Brands and Clare Grove, the Celebrant. As others assembled, I saw old friends Richard Gallafent and Linda Oakley, and familiar faces which included Sir Vince Cable MP. Then two old London buses arrived carrying Trevor's friends from Eel Pie Island.
As we waited we shared our Trevor 'experiences'. I said in passing that I would be disappointed if Trevor's coffin didn't have a key in it. A couple of his friends smiled and told me that I would not be disappointed. I was not!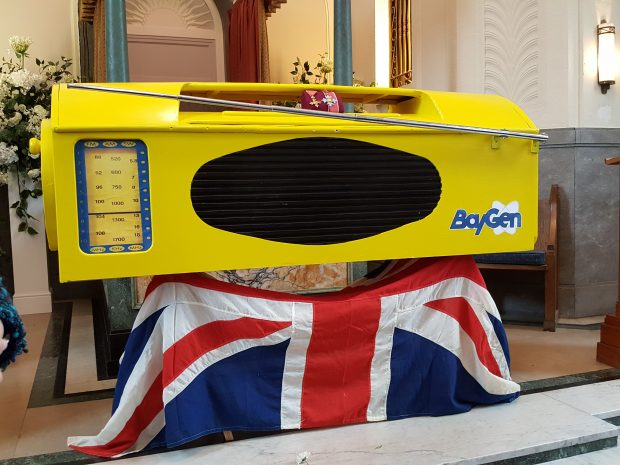 The service that followed was a celebration of Trevor's life. We were told how proud he was when he saw his clockwork radio produced by a company called BayGen Power Industries, in Cape Town, South Africa. Before long, some 250 disabled people were producing thousands of clockwork radios per month at the factory.
We sang 'Consider Yourself' and listened to his friend John Perry sing 'Raining in My Heart'. The committal was followed by 'What a Wonderful World' Louis Armstrong and the celebration ended with 'Don't Worry Be Happy' by Bobby McFerrin.
We said our goodbyes and I set off on my journey home.
On the way, I reflected on my own Trevor experiences. We had worked together with NESTA on a National Innovation Strategy (when innovation was a new word!) and joined forces with BBC Watchdog to bring to account a rogue invention promotion company. We also gave the IPO's Sean Dennehey his first big break in television, when he made an appearance to explain patents to the nation.
With Baylis Brands, we worked on a British Standard for invention promoters. Baylis Brands, with the driving forces of David Bunting and the late John Grant OBE, has since helped thousands of inventors.
Trevor's help was also invaluable in launching Cracking Ideas; intellectual property (IP) education was dear to his heart. I could go on…and often do.
But I would like to leave you with one of my personal Trevor experiences. Whenever we had a new Minister, Trevor would be straight on the telephone to me, wanting to write to them to arrange a meeting. In due course, the minister would write to the IPO and I would be asked to draft a response that would be sent to Trevor. It was a well-rehearsed procedure and all went to plan until Baroness Wilcox, Parliamentary Secretary for Business Innovation and Skills took the helm. Against the norm, she agreed to meet Trevor.
The meeting was set, and brief produced as usual. Issues or elephant traps – none. What could go wrong?
Trevor and I arrived at Vic Street and were greeted by Nicholas Blaney, her Private Secretary, who escorted us to her office. After a short wait, Lady Wilcox arrived. We all stood and Trevor moved forward as he was being introduced. Lady Wilcox extended her hand, Trevor reciprocated. To our collective horror, he then put his arm around her waist and led what I believed to be a Waltz, could have been a Foxtrot, around her room. Nicholas and I looked on, our careers flashing by in front of our eyes. 'Shame' I thought…Nicholas would have had much to offer. Trevor spun to a halt, kissed her hand and moved her gracefully into her chair, inviting her out as he did so.
Seamlessly we picked up the meeting and discussed IP education and crime. Thankfully Nicholas had made a full recovery and was making notes. The meeting ended and we said goodbye. Lady Wilcox became a champion for IP education and went on to present prizes at our Cracking Ideas Awards. Much to my relief, the Trevor incident was never mentioned: a real lady doesn't kiss and tell.
It has been a pleasure and quite an experience working with Trevor over the years. On a final note, I was delighted to hear from his friends how proud he was to have been awarded a CBE in 2014 for services to IP. An award supported by us.
Trevor Graham Baylis CBE:
The key to success is to risk thinking unconventional thoughts. Convention is the enemy of progress. As long as you've got slightly more perception than the average wrapped loaf, you could invent something.
Goodbye Trevor.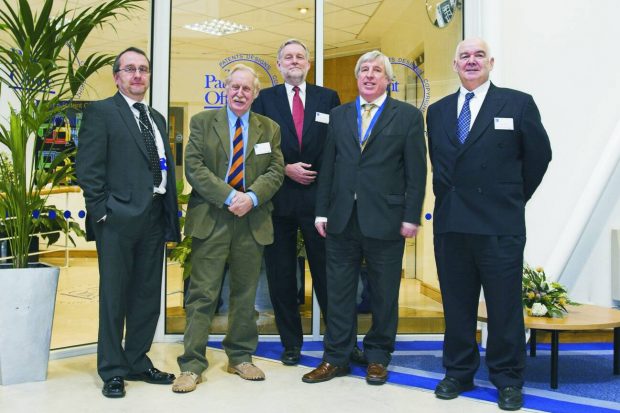 The IPO have sought the appropriate permissions to write about this event and use the photos and anecdotes within the post.
To keep in touch, sign up to email updates from this blog, or follow us on Twitter.