Now that cafes, fast food chains and restaurants are gradually reopening across the UK, many of us are looking forward to a tasty meal out. With the incredible success of Greggs plant-based product range (yum yum) it's worth reminding ourselves how limited the field was just a few years ago.
The disaster of dining out
As a vegan myself I can look back with a shudder to bare shelves. Takeaways were a let-down. Restaurant offerings limited, and if I'm honest, pretty bland. Staff would stare in amazement if you asked, 'What's in it, please?'
I didn't become a vegan because I didn't like the taste of dairy or animal-based products. But it's taken a long time for food producers to understand that no one wanted ethical food that tasted like old cardboard.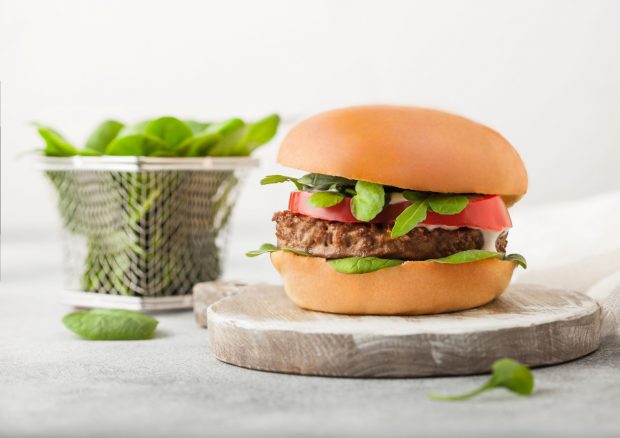 Fast forward and vegan food accounted for 25% of all new product launches in the UK in 2019. In fact, seeing the incredible commercial success of leading brands has been a huge spur to food retail business start-ups.
Plant-based paradise
The charge on dairy replacements was led through soya-based products and saw the rise of oat, almond, hazelnut and coconut drinks from 2017. In some cases, outstripped by demand, as people also looked for lactose-free alternatives. Oatly, Koko and Alpro have now become familiar household names.
The stores and shops are filling with new and delicious offerings to tempt the palate. I've even got committed meat-eating mates who'll readily chow down on a vegan option, just because it tastes good.
This has been made possible by some innovative food technologies and cutting-edge science. In fact, it's predicted that 60% of meat will be laboratory made ('cultured meat' or plant based) by 2040. Some argue that this presents some deeper ethical problems, but the context will be that no animal will have suffered in production. It will also have a huge impact on farming practices and this will no doubt see greater innovation and change in agriculture. There could be huge opportunities.
Advice for start-ups
Whether you're a well-established or a 'newbie' entrepreneur, it's no good launching out with a great ethical product only to lose the initiative with unprotected intellectual property. The market place has seen a healthy rise in food retail patents, trade marks and branding as well as designs. A quick search in our trade mark database shows more than 550 trade marks containing the word 'vegan'. You really do need to formally register your work. Use it or lose it, as the saying goes!
Our IP Basics video below provides further information about registering a trade mark and how it can benefit your business.
On a roll
If you've got a great idea for a vegan-based business and you're looking for inspiration, check out our case study with Pulsetta. CEO and founder Dr Karsten Karcher details how a passionate quest for free-from breads resulted in a unique and innovative creation.
The now not-so-humble vegan sausage roll is something of a legend even beyond veganism. It drove a 58% increase in Greggs company profits through 2019. So, if you're looking to join the rise in veganism, and you've got great ideas, remember to take your intellectual property with you!