Imagine the problems that Father Christmas would face if he was in possession of counterfeit goods.. it would look a bit like the following scenario.
T'was the night before Christmas... Father Christmas landed his sleigh on the glistening snowy roof with a thud. It was lucky he could stop - the mechanics at North Pole Garage had unknowingly fitted counterfeit brake pads.
Anyway, off his sleigh he jumps, only to snap the heel off his new boots - he thought the cheap price was suspicious but took a chance anyway. So, shaken from the landing and now heel-less, down the chimney he goes, into the sparkling lounge. He heads straight over for the sherry and mince pie.
Luckily Rudolph's nose was sensitive enough to detect that it was fake alcohol. He shouts down the chimney to Father Christmas to leave it alone. Relieved and unscathed, he throws down his sack only for the stitching to rip, spilling presents all over the room. That auction bargain wasn't quite as advertised! He quickly puts them under the tree only to get a shock off the counterfeit tree lights. Could it get any worse?
Somewhat shaken he then attempts to call Rudolph on his Aye'Phone to ask him to open the front door. Unfortunately it calls Rudolph's Chicken Takeaway in South London instead - it was a counterfeit phone. So Father Christmas now has to carry on without a sleigh, boots or a sack, and questioning every glass of sherry or Christmas tree he encounters. What's more he can't get his social media updates - not a good start to Christmas.
IP crime
So, this story is a bit of fun, but there IS a real message behind it.
Why are fakes fake? Think about it. Any ideas?
Let me give you a simple answer here - crime.
That's what fakes are, it's why they exist.
Just like thieves and burglars who make money from stealing, IP criminals make money through selling fake versions of products. That's what funds their lives - it's how they put food on the table; its how they afford a nice car and a nice house. But all illegally of course.
Take this example; everyone has some 'smellies' for Christmas. A bottle of genuine shower gel costs £2.99. It's in a nicely shaped bottle and the contents are a cool blue colour. Before you buy it you generally won't open it to check the contents, and, would you know if it was genuine anyway even if you did? IP criminals know how your mind works, and they will produce an almost identical copy, even that cool blue colour. But, do you think they'll use natural minerals, organic ingredients or seaweed? No. Why? Answer: too expensive.
They want to make money don't forget. So they use industrial alcohol, cheap additives and colorants not designed for human skin and cheap fragrances that should be used in toilet cleaner. Both products look exactly the same, but only one is good for you.
What to be wary of
Here are a few more examples of things you may buy, or be bought, this Christmas... but remember that almost everything can be faked.
footwear and clothing – poor quality materials, no quality testing and dangerous chemicals
electronics – unsafe, not tested, no safety elements, dangerous and could kill
cigarettes/tobacco – may contain dangerous chemicals or additives and not regulated
digital – may contain viruses, deprive the creator of income and supports organised crime
cosmetics – unsafe, contain ingredients unfit for humans and high levels of metals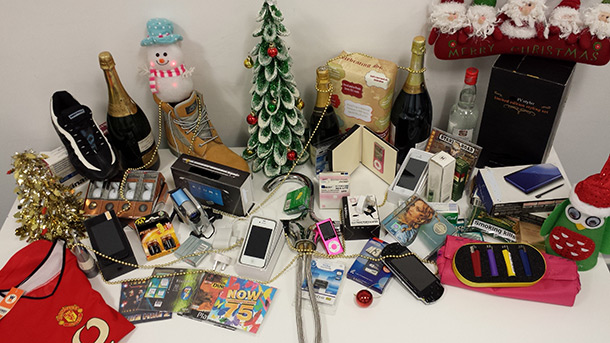 Safety tips
At this time of the year everyone is looking for a bargain. If you look in the right places you can find them and they're a genuine bargain. But, look in the wrong places and they'll probably be fake.
Usually safe
Be careful
established shops and online retailers
supermarkets
mail order companies
car boot sales
markets
door-to-door sales people
auction sites
websites offering large discounts
This isn't a hard and fast rule, but is a good indicator. If you're still unsure then look at the following advice;
does it look too good to be true?
is there any feedback?
can I contact the company by telephone if there's a problem?
Don't let a fake ruin your festivities.
To keep in touch, sign up to email updates from this blog, or follow us on Twitter.