Registered designs has often been described as the Cinderella right of the intellectual property world. Unloved, forgotten, neglected but hard working and with hidden beauty and value. When we asked designers what was wrong with the current UK design registration system they had three clear messages. Registered designs are too complex, too expensive and too difficult to enforce.
We're listening
Designers told us that the Victorian paper-based application process had no place in the 21st Century. So we worked with them to develop a brand new intuitive digital designs application service.  We launched this in September last year, but we've continued to listen to feedback and have already made six improvements and added new features to the service to make the experience even better. The service is already very popular, with new requests to register a design up by 37% in the last quarter of 2015 compared to the same period in 2014.
On enforcement you asked us why deliberate copying of your registered design wasn't a criminal offence – like it is for trade marks and copyright infringement? So we introduced criminal sanctions for the intentional copying of registered designs in 2014 – so registering your designs is key.
We're still looking to improve the design system and you told us that the cost of applying to register your design and subsequent renewals was an issue for many designers.  The fees for applying for a UK design were out of step with those at other national offices, such as Germany and France and also those for the Registered Community Design.
You told us that you often only applied to register what you expected to be your best selling products in a range. You would like to register all of your designs – but the costs were prohibitive.
Fashion designers also said that their collections may contain many different items and the current fee structure was a barrier to them protecting their creativity and innovation.
Cutting costs for designers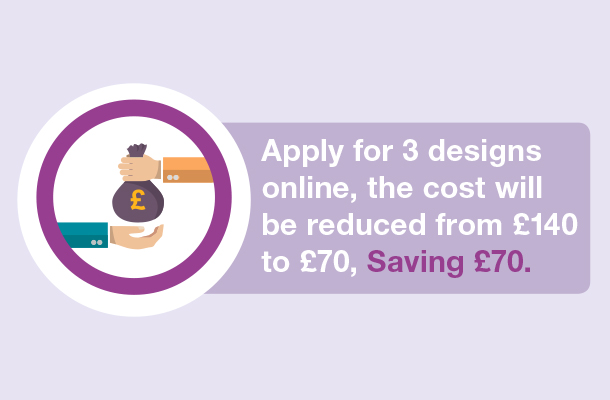 As the memory of the new year sales starts to fade the IPO is having its own cut price bargain sale. Instead of a BOGOF offer, the IPO is asking designers what they think of radically revised fees for designs. What do you think of a lower price for a single application to register your design? Or a " significant reduction to register up to ten designs and lower costs to keep your registration in force?
The design fee consultation we've just launched could radically change the way you use the design system. Our intention is to make it accessible to designers and to allow you to protect the effort and time you have put into your designs. We think the option to register up to ten designs for a fixed cost has many advantages. The new fees should:
help you get the protection you need early on in designing your new product
allow you to decide which of your designs you will take forward into production at a later date
reduce the costs for those of you who produce collections (for example jewellery and fashion designers)
make it easier to secure a "priority date" – this gives you valuable time (up to 6 months) to show your designs to others and to decide which if any you want to protect overseas
increase your options for protecting your logo (trade mark) or get up - both can also be a registered design. You can use design law to protect your brand and to protect around your brand Unlike trade marks there is no requirement to use the design you file but the logo or get up must be new
reduce the cost of renewing your registration where the design is still important to you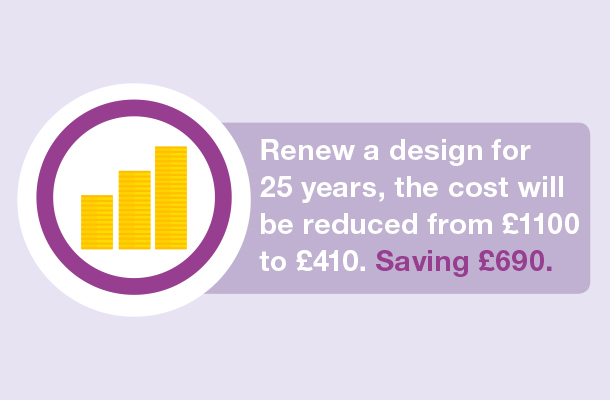 We know we still have some way to go in updating our designs services, but we're committed to getting the very best system we can for UK designers. Tell us what you think about the proposed changes to the fees and we're always happy to hear about any other ideas you may have about how to redesign our designs services!
To keep in touch, sign up to email updates from this blog, or follow us on Twitter.