Us Brits love a queue. According to a survey in 2013, we will spend up to 5 and a half hours in a queue every month.
Queues are everywhere; bus stops, post offices, traffic lights, supermarkets, fast food outlets, airports. The list is endless.
More recently, statistics have shown that the average customer will not stand in a queue with more than six people in front of them. Furthermore, you will not leave a queue if there are six people behind you. The queue spacing is also important. You should not leave more than six inches between you and the person in front but you must not talk to them.
To acknowledge someone in a queue you can nod or make eye contact, but no talking. Even if someone attempts to push in, you can tut, but usually nothing is said. It will also seem that no matter which queue you join, it will always seem to be slower than all the others.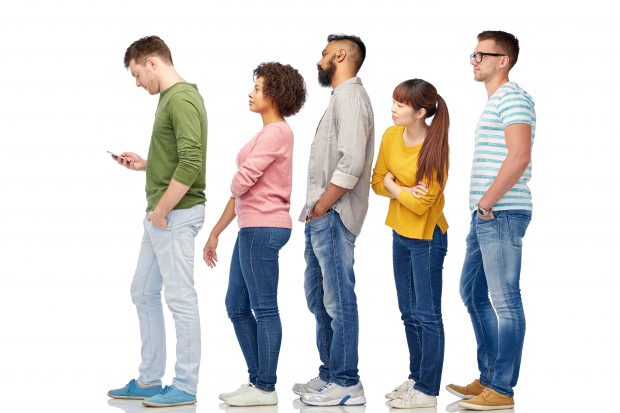 To patent is to be patient
How does this apply to Intellectual Property? We often get asked:
Why does it take so long for my patent to be granted?
Well, exactly the same as any other queue, when you file your application and you request a search, it is placed in a queue. A statutory search for novelty and inventiveness can take up to six months to perform. So, although you can wait up to twelve months to request the search, it makes sense to have this done sooner rather than later.
With the search results you can make those informed decisions, whether to continue to publication, file overseas or invest further in your invention. If you decide to pursue your application, it will be published at eighteen months from the earliest date, and you will then have six months to request examination. Your application will then be placed back in a queue for substantive examination. From application to grant, the process can take up to 6 years, as shown in this useful patents timeline.
Can this be sped up?
Yes, but you should think carefully about whether a fast grant is in your best interests. For example, the earlier your patent application is published, the earlier the technology is in the public domain. Many applicants are happy to proceed to grant at a slower pace. This enables them to develop and plan the commercialisation and marketing of their invention, whilst the patent application process continues. It also gives them time to determine whether their invention is commercially viable before committing to a greater financial outlay.
If you do require accelerated grant, there are three options. Combined search and examination, accelerated search and/or examination and early publication. Combined search and examination and early publication are available upon request but to accelerate search or examination you must provide adequate reasons why your application should jump the queue. Each request is decided on a case by case basis.
For further advice on how to accelerate the process, we have guidance on our website. We would also advise you to consult your patent attorney as to the best cause of action for your invention.
So, queuing works and one place that it works very efficiently is the barbers (apologies to anyone who hasn't visited a barber shop). But us gentlemen know, when you enter the shop and take your seat to wait, you know exactly how many people are in front of you and who is next in the queue. If there are 6 people already waiting, come back later.
To keep in touch, sign up to email updates from this blog, or follow us on Twitter.