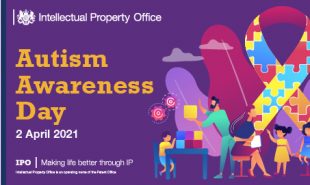 Tomorrow is World Autism Awareness Day (2 April 2021). We are marking this occasion by talking to one of our Patent Examiner colleagues about her experience of living with autism. Take it away Rianis!
Hi! I'm Rianis. I'm a Patent Examiner in Team EX12 at the IPO. When I joined the Office in 2015, I did not know that I was autistic or dyslexic. I struggled with the office environment and this meant I was not able to keep up with my work targets. With advice from the staff counsellors and support from HR I was able to be diagnosed as dyslexic – which then led to an autism diagnosis. Having my autism diagnosis has helped me at work because we have been able to put in place adjustments to ensure I can work to the best of my ability. These have included: home-working, reduced output requirements, and preferred methods of communication. I use the Workplace Adjustment Passport so that I can easily share what I need with new managers.
For me, being autistic affects me in many ways. I find the office environment difficult to work in because I find the multiple overhead lights and constant noise and movement of people overwhelming. Working from home I have been able to create a suitable environment. I also find aspects of social interaction difficult at work. Phone calls are not a suitable method of communication for me – this is because I do not have enough time to process what is being said and work out how I am supposed to respond. My team makes adjustments such as giving me feedback in written format and sending me a message before they call so I know what to expect.
Although being autistic means that I struggle with things that others may take for granted, the differences in the way my brain works does have some advantages. I can think very logically and have good attention to detail. Because of this I was always good at maths at school and did a degree in Mathematics. I use these skills every day in my job as a Patent Examiner.
Support available in the IPO for autistic people
At the IPO the iThink network supports neuro-divergent individuals, including autistic colleagues. The network runs support meetings and awareness training. We also provide advice and support for managers of autistic colleagues.
The IPO also works closely with Autism Spectrum Connections Cymru (ASCC) to provide support for autistic staff and training courses for all staff members.
Here are some resources if you would like to learn more about autism: