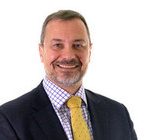 Tim Moss
Tim took up post as Chief Executive Officer and Comptroller General of the UK's Intellectual Property Office (IPO) on 1 May 2017.
As CEO of the IPO Tim is responsible for advising Ministers on all IP policy matters and for the operation of the Office, which grants some 5509 patents 54761 trade marks each year.
What has a Swedish scamster and a couple called Sarah and George got in common?