The AI and IP consultation was launched in October. IPO CEO Tim Moss looks at the consultation's role in the global drive to understand how IP can best support AI innovation, within the framework of the government's National AI Strategy.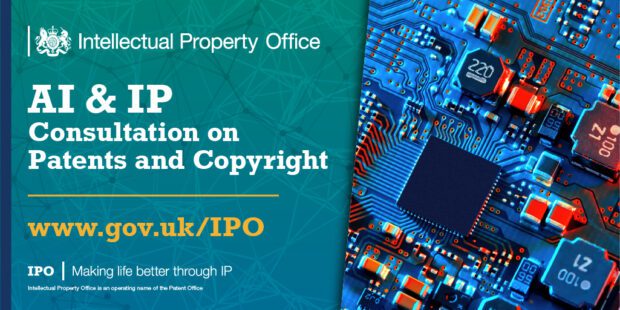 'The UK is a global superpower in AI and is well placed to lead the world over the next decade as a genuine research and innovation powerhouse, a hive of global talent and a progressive regulatory and business environment.' – UK  National AI Strategy  
So, why are we holding a consultation on AI and IP?
The National AI Strategy, published in September 2021, sets out the government's plans to invest in the AI ecosystem, support AI innovation and govern AI effectively.   
We promised to start a consultation within three months to inform how IP can best support AI innovation. On 29 October, we began a 10-week consultation.  
We are consulting on three specific areas in patent and copyright law:  
Copyright protection for computer-generated works without a human author.

These are currently protected in the UK for 50 years. But should they be protected at all and if so, how should they be protected?

Licensing or exceptions to copyright for text and data mining.

This is often significant in AI use and development.

Is there a case for protecting AI-devised inventions by IP rights?

If yes, how should they be protected? 

 
We have held a series of seminars and roundtables with innovative industry, IP experts and academia working with the Office for AI, Tech Nation, AI Council and Turing Institute to explore these questions.   
AI patent applications
AI is currently a very hot topic in the IP world. There is considerable interest both in the UK and globally in questions such as that posed by the DABUS applications. These include whether an AI system could be named as an inventor on a patent application and who (if anyone) should own the IP generated by an AI system.   
Some background on DABUS 
On 21 September 2021, the Court of Appeal found in favour of our decision to reject two UK patent applications that named the AI system, DABUS, as inventor. Current law only allows human inventors to be identified. The Supreme Court is currently considering whether to hear a further appeal.     
We welcome the Court of Appeal judgment and the clarification it gives the law as it stands in relation to the patenting of inventions made with the use of AI machines. We recognise, however, that there are legitimate questions as to how the patent system, and indeed intellectual property more broadly, should handle such inventions.  
Paving the way in the international debate
Globally we are now in the position to increase our understanding of the interactions that future technology may have on the IP framework, through leading discussions with other offices.   
In June 2019 and July 2020, the IPO, in partnership with the World Intellectual Property Organisation (WIPO), hosted conferences to identify priority areas for further investigation and possible action.  
Bilateral and multilateral conversations regarding AI and IP with international partners are also ongoing given the transnational and multijurisdictional nature of AI and IP.  
The IPO will continue to work with partners around the world on shared challenges in research and development and lead the global conversation on AI.  
Let us know what you think
If or when inventive and creative AI exists, it is important that the IP system secures benefits for society and mankind - the human benefits of this innovation.  
You can help us shape the UK's domestic framework and position the UK as thought leaders in the AI and IP international debate.   
All opinions are important to us. If you are interested in participating in the consultation process, you can find the details to respond here.  
Submit your views by clicking on this link.  
The consultation is open until 7 January 2022.