What brings caffeine shampoo, floor tiling and cutting edge kitchen extractor systems together this July? The answer is the biggest, free sporting event in the world: the Tour de France.
A little more than 40 years ago the Tour was contested by national teams. Even 30 years ago it was a fairly parochial affair, dominated by French, Italian and Belgian teams and their commercial sponsors. Since the mid-1980s there was a push for 'mondialisation' of the race, turning the most important European bike race of the year into the most important global bike race. International brands are now a familiar sight. It has an estimated annual audience of more than 3.5 billion people. It is broadcast in 188 different countries. More than 12 million people watch the race on the roadside.
Local economies
Britain had a taste of le Tour madness last year with more 4 million people turning out to see snake its way through Yorkshire, Essex and London. The benefit to the local economies was estimated in excess of £120 million. What brings people out to see the race? Partly it is the mythology that surrounds its century-old history, tales of heroism and epic failure. Partly it is how close you can get to the action. In 2013 I was so close to Chris Froome as he puffed his way up an Alpine climb, towards overall victory, I was in danger of knocking him off his bike.
But back to caffeine shampoo and floor tiles. The Tour is a massive organisational feat. There are 198 riders, with thousands of support staff. Each day they move on, booking around 1200 hotel rooms every night, for three weeks. How is this paid for? By the hundreds of businesses that sponsor the race.
Brand exposure
From companies that sponsor the riders' teams to the cars that drive organisers around, the water given away at the roadside to the jerseys and competitions the riders compete for.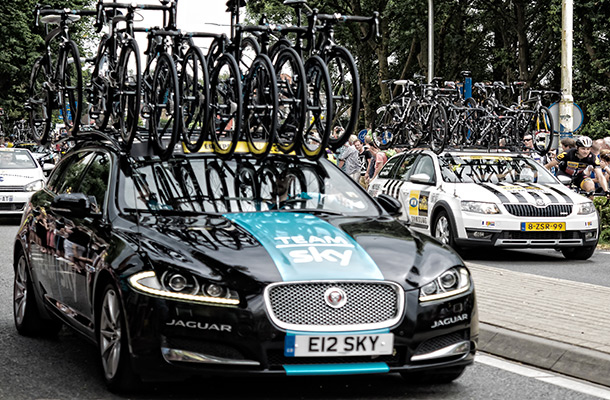 All of these are possible because of commercial sponsorship. The iconic yellow jersey, worn by the race leader, comes from the colour of the paper that was the original sponsor of the race back in 1903. With such a large audience firms have the perfect platform to market their brand.
But, with all of this exposure, it is vital you protect your brand properly. Amaury Sport Organisation (ASO), which owns and runs the race, fiercely protects its brand through use of trade marks. But IP rights are also about how you can get the most out of a product, service or brand. ASO produces detailed guidelines about how you can use its protected content. This helps maintain the integrity of the 'Le Tour' brand as well as making sure it can be seen and used by as many people as possible. ASO will help people negotiate the tricky course between painting your flock of sheep the same colours as the jerseys in the race (that is OK) and decking out your teashop as a yellow jersey (not so good).
Getting the balance right is also about understanding and respecting IP rights too. This is a key part of the IPO's work. We aim to help everyone from small businesses, students and the general public better understand what IP is and how to respect it. And following the huge success of Le Tour visiting these shores, we are hoping it comes back soon.
[Photo above of the peloton from Gap to Alpe-d'Huez by Agence Zoom. Used under Getty Images]
[Photo above of the Chris Froome in yellow jersey by Jeff Pachoud. Used under Getty Images]
[Photo above of Jaguar XF, Team Sky, Tour de France 2015 by Frans Berkelaar on Flickr. Used under Creative Commons]
[Feature photo 'Wiggins in Yellow' by Josh Hallett on Flickr. Used under Creative Commons]
To keep in touch, sign up to email updates from this blog, or follow us on Twitter.