You've just bought the carbon fibre bike of your dreams, all £3,000 worth of it. Then, tightening up the seat post bracket, you hear a nasty little cracking sound. Carbon fibre is light. Frames made with it absorb vibration. It lasts a lifetime. At least until you give another turn to that nut and its brittle structure breaks.
Like diviners who claim their quivering twig has identified underground water, some of us seem to be blessed with a rare gift for knowing just when to stop pushing the spanner beyond the limit. The rest of humanity needs to be told. Hence the torque wrench equipped with increasingly complex, now often electronic, ways of telling you when not to go on tightening.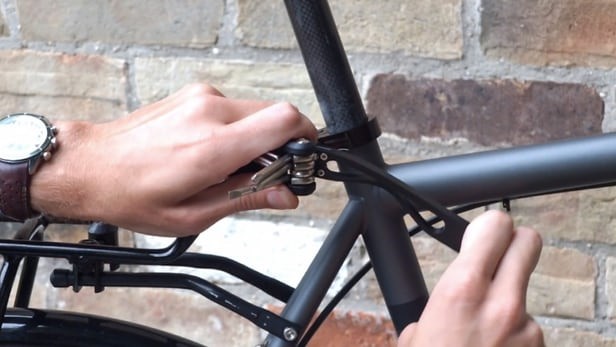 Tom Lawrie-Fussey has been thinking about torque for a while, though at first not about how to avoid wrecking his bike frame.
The day job is with Cambridge Design Partnership, and he has already a good bit of a history in design and development, including a neat miniature electronic tab that tells a hire company what you did to their car.
We have all read those manuals with the warning: don't over tighten. What does that mean? When you are using a hand tool and you need only a low torque level it can be really difficult to grasp when you are going over the limit. Who can say how much hand pressure 2 Newton metres means?

I needed something that, in technical terms, would be like a self-limiting torque wrench but one that would cost virtually nothing. Looking around for such a thing and it did not exist. Your local garage mechanic has a great bulky object with a mechanical indicator. Specialist users in other fields might have smaller, more sophisticated, things but they can be tricky to use.
Tom hit upon exploiting the limited stiffness of some plastics to make his tightening tool. Any good inventor deserves a bit of luck.
A friend is an independent patents adviser. We discussed different possible uses of the idea. Creating a simple bike tool as a self-limiting wrench was one. We paid for a full patent search to explore what there was already out there. The closest we found to what we were beginning to think of was a dentists' tool.
The material Tom settled on is an acetal plastic for a spanner adaptor to give the final tension to a bolt. It has an obvious "boing" at the right torque level, which, for now, is either 2 or 5 Newton metres, just what a carbon fibre frame needs.
A lot of people have come to me with ideas and I am horrified by how far away from a proper application they can be. My own approach has been to listen to a sector, figure out their needs and then seek a solution. Our patent search was not expensive but exceptionally useful. It helped us reach clarity about what we were claiming, to capture on paper and in diagrams what the invention actually was.

For our patent we had to first focus ruthlessly on the novelty of the core idea, stripping out all other features, and then apply a broad view looking at the possibilities for the various potential markets and sectors, covering off as many possible variants of that idea as we could.
Check out their patent application.
So what next?
He invites those who might want to buy the patent. But Tom is also looking around to see how it might be developed. Torque wrenches generally run from 10 to 200 Newton metres. The current plastic can go up to 10Nm and not more, so it is for light-touch solutions and there is currently interest from a number of sectors you might not think of when looking at an oily bike spanner.
For spinal bone repair surgeons, a use-and-dispose device means they would never over tighten, they would always be sure it would work and they would have no fears about sterilisation. So it could be that, if you forgot to put a Crankl in your bike pouch, the surgeon repairing you after the accident will be asking the theatre nurse to hand them much the same thing to ensure the screw sits properly in your backbone.
To keep in touch, sign up to email updates from this blog, or follow us on Twitter.