Christmas is a bonanza period for fraudsters and fakers.
Tens of thousands of dangerous fake goods, from cheap toys to false designer brands, threaten British consumers. Matthew Cope, Deputy Director of Enforcement at the Intellectual Property Office explained:
At this time of year, Enforcement Officers are fully stretched. We work with Border Force and rights holders to intensify our efforts at entry points during the run up to Christmas.

We're all responsible in the fight against consumer crime. Anyone looking for a bargain this Christmas should be wary of prices that look too good to be true. Fake goods are not only shoddy, they are dangerous to use and they supply organised crime with cash.
Fighting the fakes
The Intellectual Property Office (IPO) has been based in Newport for over 25 years. Perhaps it's no surprise that an innovative scheme has been developed between Newport Council's Trading Standards department and the IPO. 'Fake Free Newport' is an ambitious scheme aimed at stifling the appeal of illegal and dangerous rip offs and building civic pride.
Matthew Cridland at Newport City Council stresses the importance of Fake Free Newport:
Newport is the first drop off point for counterfeit goods as you travel West. It's our job to tackle counterfeiting operations on the street, online and in the courts.  This will be the second Christmas of our campaign. Newport's retailers and shoppers are engaged in the fight to keep our markets safe.

The IPO has supported Fake Free Newport since its launch last December. We work in schools and with local businesses to create a clean trading environment. Newport's physical regeneration is supported by the public who want us to succeed.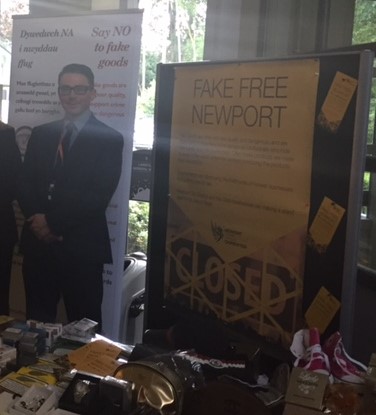 There are two main aspects to Fake Free Newport. Retailers sign up to the Fake Free Newport scheme, guaranteeing the provenance of all the goods they sell. Fake Free Newport has since become a badge of quality assurance which is raising the profile of Newport as a retail centre.
At the same time, Matthew and his team engage with the public online, through schools and press coverage. They remind everyone who shops in Newport that the market for fakes adversely effects their community. Fake goods are not just dangerous, they are psychologically and economically damaging. Community awareness and action against fakes has a positive effect on trade and society.
One of a kind
Newport's small team of trading standards officers are based in the city's Civic Centre. The unique building, with its iconic clock tower, was designed during the 1930s by Thomas Cecil Howitt. In the grand entrance lobby, unique murals painted by artist Hans Feibush adorn the walls.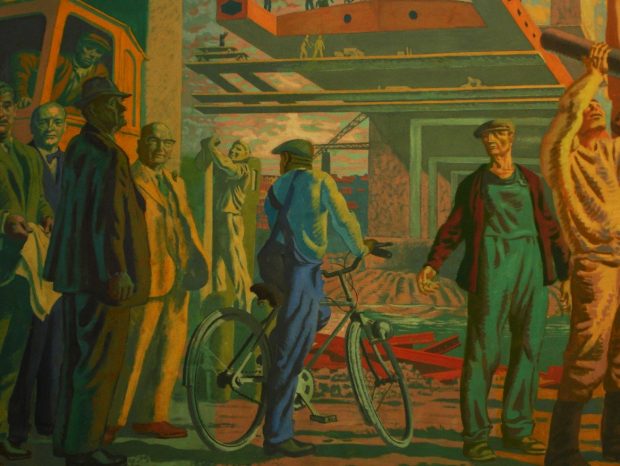 The images tell the story of Newport. They also exemplify Newport Council's commitment to individuality, innovation, hard work, progress and the fundamental value of the genuine article. Newport Council's Fake Free Newport is a campaign that could be replicated in any council keen to blend community cohesion with innovation and business success.
Get involved
The list of retailers participating in the scheme, and entitled to display the Fake Free Newport mark is growing. If you own a business in Newport and you want to show that you back the city not the fakes, contact Matthew Cridland to add your name to the list.
Newport businesses already signed up include: Macey Sports Ltd (Caerleon Road), Cayzers Menswear (Chepstow Road), Chessmen (Newport Retail Park), The Perfume Shop (Newport Retail Park), F.L. Wanger Opticians (Chepstow Road), Cineworld (Friars Walk and Newport Retail Park), Smyths Toys (Mendelgief Retail Park), The Lamb (Bridge Street), Sports Direct.com (Commercial Street), JD Sports Plc (Friars Walk), The Wardrobe (Friars Street), The Entertainer (Friars Walk), Debenhams (Friars Walk), WH Smith (Commercial Street), Diverse Music (Charles Street), The Potters (Upper Dock Street), Camera Centre UK (Charles Street), Boots (Commercial Street and Newport Retail Park), Freestyle Skate (Newport Arcade), Game (Commercial Street), Vision Express (Newport Retail Park), Wildings Ltd (Commercial Street), Yezen Café (Newport Provisions Market), Sewing Shop (Newport Provisions Market), Pet House (Newport Provisions Market) and Newport Provisions Market itself.
To keep in touch, sign up to email updates from this blog, or follow us on Twitter.