With the big day fast approaching, most of us will be thinking about our Christmas dinner.
I certainly am as I drive to one of my last business events of 2017. I'm contemplating starters, followed by turkey and the trimmings, a goose or nut roast. Then a Christmas pud, doused in brandy - a full three courses.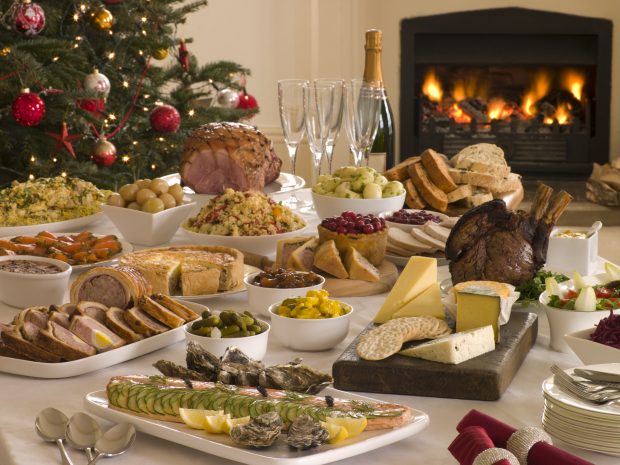 As a member of the Business Outreach team, I often find myself travelling around the UK. From Cornwall to the Highlands of Scotland, the team deliver and attend a variety of business support events.
Being based in Newport, South Wales, getting to the North West and further upwards means using the M5 and M6 motorways. If you have driven this route over the past few years, at a point between Birmingham and Manchester, you will pass under a green bridge which has been painted in large white letters, 'The Pies'.
Like me, you have probably been wondering what this relates to. (No, just me then). So, it was with some satisfaction that a small video piece appeared on the BBC website entitled 'mystery of the pies graffiti explained'.
To cut a long story short, 'The Pies' is a band based in the North West who have been around for a number of years but have yet to make a breakthrough. With that mystery put to bed, this got me thinking about other food-based band names and whether I could make up a full meal. Here goes.
Starters
Let's go for the Soup (Dragons), named after a character in the children's TV show, Clangers. In this animation series, mouse-like creatures live on a blue planet. Their favourite dish is a green soup provided by a dragon: The Soup Dragon. Wasn't there a blog about that?
Hopefully you remember their 1990 top ten hit 'I'm Free' (not to be mistaken for John Inman's catchphrase from 'Are you being served').
What can we have with our soup (dragons)? Bread of course. The 1970 American rockers, who after struggling to come up with a name, settled on 'Bread' when they pulled up behind a Barbara Ann Bread truck at a traffic light.
Main Course
Options here: Pies, of course, but how about Meat Loaf? There are varying stories about how the man born Marvin Lee Aday became Meat Loaf. One story being that his father called him 'Meat' as a young child because of his size. And then later, when he attended school and began to play football, his classmates and coaches added the 'Loaf'.
Not a meat eater. Try the Fish option. Fish, formerly the front man with Marillion, obtained his nickname as a result of enjoying too much time in the bathtub.
Side orders
Hot Chip(s), no real story behind their name. Okay, now I am struggling to find any vegetable based band names. In fact, the only one I can find is King Courgette, a five-piece self-styled 'vegetable string band'. I don't think they have had many hits.
Dessert
Strawberry (Switchblade), a Scottish female pop rock/new wave band formed in Glasgow in 1981, named after a fanzine and a James Kirk song. Now, everyone knows you can't have strawberries without cream. Cream, the name came from the recognition that the band members (Eric Clapton, Ginger Baker and Jack Bruce) were the cream of the crop.
So, that's all three courses done and I'm full to the brim with food-based band names. Let us know if you can think of any others! Why not start an after Christmas dinner quiz with the family?
If you would like the Business Outreach team to attend or present at an event, just get in touch. You can also check our events calendar to see where we're going in the New Year.
To keep in touch, sign up to email updates from this blog, or follow us on Twitter.