Every February in the UK we celebrate LGBT History Month. This is a chance for us to reflect on how far we've come in terms of LGBT rights and acceptance in the world, but also how far we still have to go for full equality.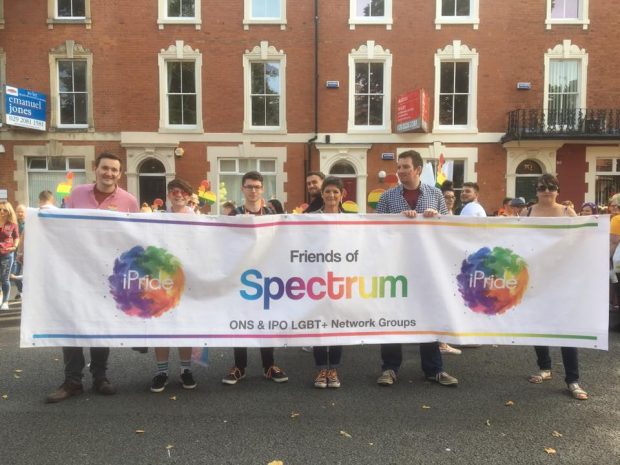 Here at the IPO, we've been doing a lot in terms of diversity and LGBT awareness for a number of years. Last year we launched our own LGBT+ Allies network called iPride, and we've recently celebrated our 1st birthday. This coincided with the launch of our Twitter account @iPride_IPO – why not give us a follow!
Over the last year we've been busy bees! From creating our steering group, to launching an allies programme in May, helping with the mammoth task of completing the Stonewall Workplace Equality Index submission and co-ordinating our Pride Cymru stand with Office for National Statistics (ONS); it's been pretty non-stop!
Some of our steering group reps have developed training sessions in bisexuality awareness, transgender awareness and allies training. We've launched these throughout February to coincide with LGBT History Month, with the view to roll them out across the office and put on a number of sessions throughout the year. We've also had a talk from the fantastic Helen Power, a retired Reader in Law at the University of South Wales. Helen's specialisms were criminal law and European human rights law, with a particular emphasis on gay rights. She talked about the history of LGBT rights, a session which was crammed full of interesting facts about how the law has changed, both helping and hindering LGBT people.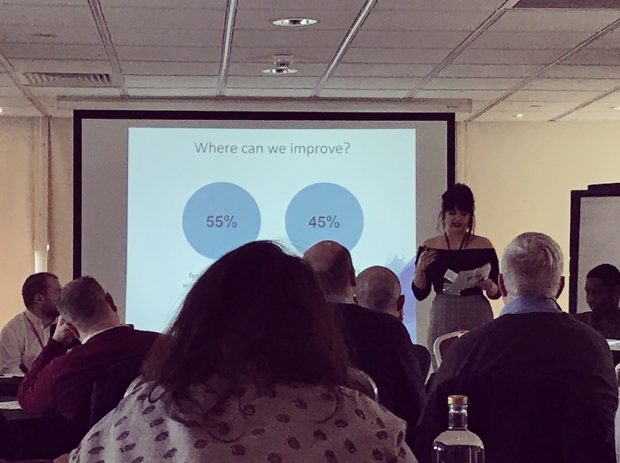 On Wednesday 31st January, we found out we were ranked in the Stonewall Workplace Equality Index Top 100 employers list. We had moved up 71 spaces since last year and a total of 278 spaces in the last 2 years! This is a massive achievement for us, considering at the very beginning of 2017 we didn't even have an LGBT network of our own.
A few weeks ago, myself and the other co-chair of the network went up to the Stonewall Top 100 event, where we met up with a number of other Welsh organisations, also ranked in the top 100. We are planning on re-starting the group for South Wales LGBT Network chairs. Hopefully, we can use this network of people to exchange ideas with, helping us to improve what we're doing across the office.
Last Wednesday, we hosted sessions at the Stonewall Cymru Workplace Conference in Cardiff. My session was called 'What about the B in LGBT?' where I spoke about what we've done over the last year in terms of bisexual awareness and engagement, using some of our People Survey stats and information about our training sessions. It was a great session and I learnt some really useful tips to help us further increase bi inclusivity.
At the awards ceremony after the conference, we were delighted to find out that our co-chair won the Senior Champion of the Year award for all his work in the office throughout the last year. Well done Dom!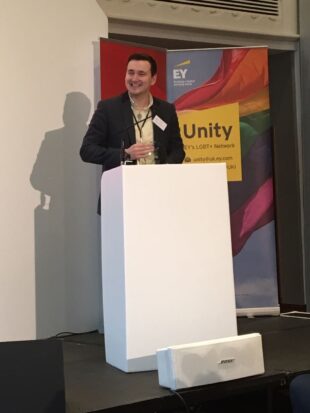 We couldn't have done all this without the help of our steering group and network members, as well as the HR and Diversity teams. To have such a great support network behind us has helped us to achieve great things over the last year. Next stop…Top 50!
To keep in touch, sign up to email updates from this blog, or follow us on Twitter.