Question: what could be more British than a pie?

Answer: a pie in a tin
The Fray Bentos pie, along with products like corned beef and tins of Scotch broth, are long standing members of British cuisine. They combine a feeling of nostalgia with a modern twist, providing instant satisfaction. When the Fray Bentos pie first appeared, tinned food was as futuristic as any microwavable jalfrezi, or quinoa and aquaculture-grown mange tout might seem today.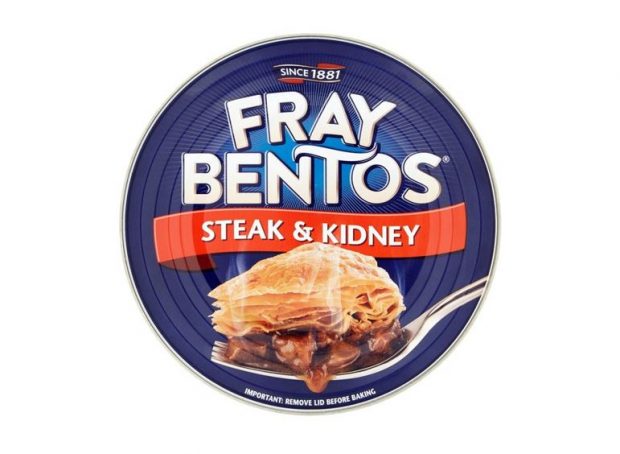 A Fray Bentos pie is made for a pie-eater who has things to do. It's not exactly finger-food, but a complete culinary experience which you just heat up and eat. 150 years ago, the idea that you could do this without a rolling pin, agar jelly, a pig, some fields and a special room for making the pie go crusty, would have seemed as ridiculous as flying to the moon.
Pie worship
Since its invention in 1961, the Fray Bentos pie has become a cult product. But the brand, the method of production and the ethos behind Fray Bentos symbolises something much bigger. Fray Bentos was perhaps the world's first planetary food product. It is also a brand that demonstrates a strong trade mark's potentially never ending shelf-life.
Trade Mark 25799
Fray Bentos was registered as a UK trade mark in 1881. At the time it represented an almost sci-fi approach to food production. During the 1840s, a German scientist began researching ways of solving the problem of feeding rapidly expanding urban populations. Justus von Liebig's solution was a product he called, somewhat unappetizingly, 'extract of meat'.
Liebig's company (LEMCO) was an international success. To guarantee the enormous level of production required to keep the shelves filled, a huge factory was constructed in South America.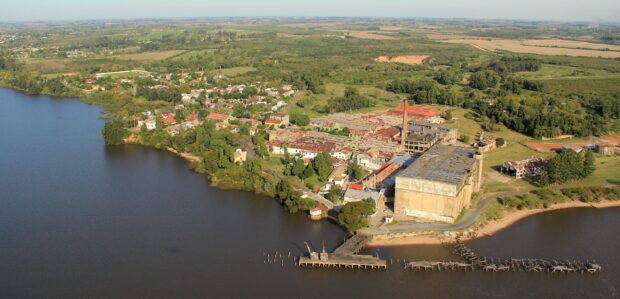 Located on a rocky promontory in Uruguay, where the Uruguay and Negro rivers meet, the factory overlooked Argentina with its pampas full of gauchos and cattle. The town that grew around it was given the name Fray Bentos. Nobody is entirely sure why, but there are stories of a friar called Bentos who lived in the area. By 1863, a workforce that grew to 4000 moved into their own district. For over a hundred years they supplied corned beef and meat products to the world.
World Heritage
The factory closed in 1979, but the brand and the town it gave its name to live on. In 2015, Fray Bentos was recognised as a UNESCO World Heritage Site and now it attracts tourists to the old meat processing marvel. Fray Bentos transformed the way we eat and UNESCO have recognised this.
Fray Bentos originated in a new town, producing new products, using new production methods and new technology. Today, the survival and success of the Fray Bentos trade mark lies in the only consistent element of the story...the brand. Fray Bentos pie is also part of world heritage.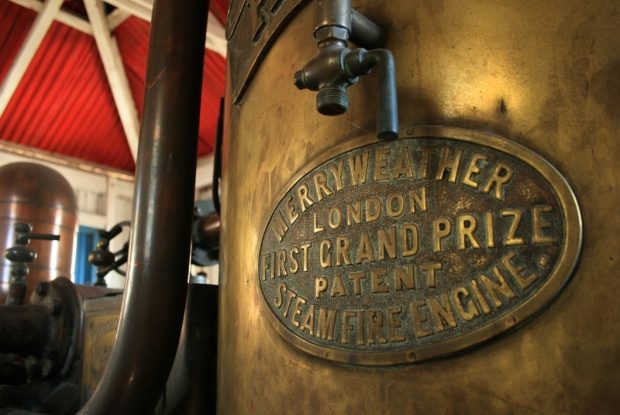 Baxters
In 1868, just three years after LEMCO was established in London, George Baxter, a gardener from Scotland, opened a greengrocer's shop in the nearby village of Fochabers. He must have sensed change in the air, because the business he stepped into was about to be transformed by the food processing technology Liebig was developing in Fray Bentos.
Baxters' journey into food processing began with jams and preserves, establishing Baxters as a family firm with deep roots in the local community and a commitment to food quality. With the development of its range of Scottish themed soups, designed by Ena Baxter, Baxters entered the same market as the tinned products from Fray Bentos.
Today, Fray Bentos pies are produced in Scotland by Baxter Foods. The Fray Bentos pie remains quintessentially British: both global and local. It proves that the secret ingredient for trade mark immortality is not extract of meat, nor is it El Dorado - it is imagination.
To keep in touch, sign up to email updates from this blog, or follow us on Twitter.