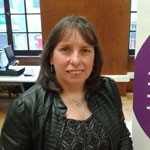 Catherine Queen
Catherine has worked in the Mitchell Library in Glasgow since April 1996 mainly in the Business Department. Starting as a Library Supervisor she has worked as an Information Officer for the past five years with responsibility for the delivery of business and information services to public and contracted clients while developing good working relationships with external agencies.
In 2011 she became the Glasgow Libraries' representative to PATLIB UK being elected Secretary in 2013 and taking the Chair in 2014.
Catherine hails from Glasgow and studied Music & English Literature at Glasgow University before gaining a Primary Teaching qualification at St. Andrew's College of Education. A keen walker she completed The John Muir Way last year.
The PatLib UK network consists of 15 information centres (mainly libraries).