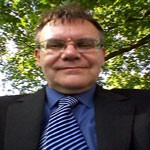 Ed Smith
I am a hearing officer and accredited mediator working in the trade marks registry. I qualified as a mediator with ADRg two years ago and have been involved in mediations across all IP disciplines. Also I have lectured on the subject to CIPA/ITMA and external agencies such as Central Law Training. We also train barristers at Cardiff University as part of their wider training. I am also a published author on IP matters and hold an LLM in Intellectual Property.
For mediators, the job is an exercise in rescue, to rescue people from the courts and sometimes from themselves.
Related content and links
Intellectual Property Office blog
A blog on the work of the Intellectual Property Office (IPO). Contributors are IPO staff and invited industry experts from the world of IP.
Dragons' Den: the Intellectual Property blog
A blog about the IP issues we spot in each episode of the BBC's Dragons' Den programme.
Find out more
.
Comment and moderation guidelines