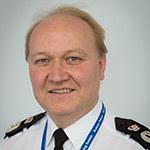 Giles York
Giles is Chief Constable of Sussex Constabulary and the national police lead for IP crime. He is responsible for setting the direction the UK police take in dealing with IP crime and also coordinates resources further afield to tackle the problem.
Just imagine this scenario. You're the proud owner of a family shop.
Related content and links
Intellectual Property Office blog
A blog on the work of the Intellectual Property Office (IPO). Contributors are IPO staff and invited industry experts from the world of IP.
Dragons' Den: the Intellectual Property blog
A blog about the IP issues we spot in each episode of the BBC's Dragons' Den programme.
Find out more
.
Comment and moderation guidelines