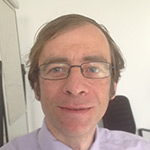 Julyan Elbro
Julyan Elbro originally joined the IPO as a patent examiner, and has had a number of different jobs in the organisation since then. He is currently a Divisional Director in the Patents Division, responsible for the Office's patent examining and patent tribunal services.
Demand for our patent services is higher than ever.
Related content and links
Intellectual Property Office blog
A blog on the work of the Intellectual Property Office (IPO). Contributors are IPO staff and invited industry experts from the world of IP.
Dragons' Den: the Intellectual Property blog
A blog about the IP issues we spot in each episode of the BBC's Dragons' Den programme.
Find out more
.
Comment and moderation guidelines