How things have changed. When I was a lad, (ok, it was many moons ago) me and my mates had aspirations of being footballers, pilots or astronauts.
For today's 4 to 16 year olds, the dream career choices include YouTube celebrity, video game designer and e-sports athlete (apparently, that's playing computer games). It's good to see that some more traditional jobs still appear on the list (source: Bidvine.com) like doctors and nurses, firefighters and police officers.
Surprisingly there is no mention of patent or trade mark attorney in the top ten, but it's encouraging that entrepreneur is there at number 5. This could be because of programmes such as Dragons Den or the Apprentice or inspiration from family members who have started or run their own business.
At Companies House, we have recently produced some short case studies showcasing small businesses. We found out the inspiration behind each business and how each began their journey. One of the questions that we asked each company was:
What is the best thing about being a small business owner?
Both of our featured companies replied that it is the flexibility of being able to manage their own time. But along with that freedom and flexibility comes many legal challenges that you don't have to worry about if you work for someone else.
The process of starting a company is straight forward and is done quickly online. If you adopt the "Model" articles of association and use the template for the Memorandum of association, a competent computer user can set up a standard company in minutes.
For many companies, choosing a company name appears to take little or no thought. I'm based in Clapham and I'm going to open a sandwich shop, so "Clapham Sandwich Shop" is a no brainer. Check the name on the company name availability checker at Companies House and away you go.
Now, I'm not saying that this approach is wrong, but it certainly isn't the recommended way. Our case studies are prime examples. Working with Matt and Sophie at Hard Lines coffee shop in Cardiff it came to light that this was not their original choice of name.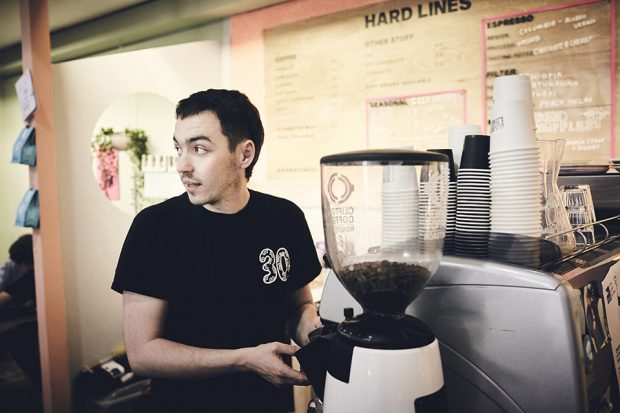 For about 6 months they had been trading successfully as Outpost. They had used the name ability checker to make sure the name was free to register and then formed the company online. What they failed to do was to check the IPO's trade mark database. It wasn't too long before a letter landed on their doorstep informing them that they were infringing someone else's trade mark.
Luckily for them they were about to open a second premises, so owning a trade mark allowing them to control its use was essential going forward. The change of name came at the right time and on this occasion, they checked both the company name and the trade mark were available.
For our second case study, Nicola at Lullabyz nursery had already received family advice that a trade mark was an important commodity. As Nicola says:
Becoming a limited company gave us a safety net should things go wrong, but owning the name was also essential to us. Filing a trade mark was one of the first things we did.
Many small companies tend to overlook the intellectual property in their business until something goes wrong. Being like Nicola and seeking advice will prove beneficial in the long run.
Sadly, I didn't make it as an astronaut, but I haven't given up hope. Now where did I put that 20 million dollars?
To keep in touch, sign up to email updates from this blog, or follow us on Twitter.