American screenwriters Albert Maltz and Malvin Wald famously wrote:
There are eight million stories in the naked city, and this has been one of them.
They were talking about crime on the streets of New York City in the 40's and 50's as they pioneered a hard-boiled TV crime genre. Perhaps Stuart Phillips, as he walked the streets of the UK's smallest city as a young special constable, had the same inspiration. There was just one problem, there are only one thousand eight hundred and forty-one people living in St Davids. There are nowhere near eight million stories in his native Pembrokeshire. Or are there?
To combat the kind of crime wave the film and TV series 'The Naked City' exposed, Phillips had to move on. He realised that his unique skills as a dog trainer and his desire to fight crime would enable him to contribute on a national scale. In 2015, after training military working dogs at the British Army's Defence Animal Centre, he established B.W.Y Canine. Phillips specialised in the field of the training and deployment of detection dogs with an international reputation.
Stuart's skills at detection dog training were first deployed in anti-terrorism initiatives in international conflict zones and then safeguarding the 2012 Olympics. He explains:
I've worked all over the world. I fell into tobacco work, purely by accident.
IP Crime
IP crime includes:
the application of trade marks to fake often faulty and substandard goods
the provision of unlicensed copyright material online
the fabrication and introduction into supply chains of dangerous patent rip-offs
the application of stolen designs to clothing and furniture.
All of the above is illegal and it's big business. In the UK it is estimated that 25 percent of all digital consumption (downloading, streaming/accessing content online) involved an illegal source of copyright material. Electricity Safety First reports that almost one in four consumers buying electrical items online from third-party sellers discover that they are fakes.
Tobacco work
This year's Intellectual Property Crime Report reveals that the sale of counterfeit tobacco products is the most counterfeited product investigated by trading standards officers throughout the UK. The cost of IP crime to the UK economy was recently to be worth £13.6 billion. HMRC estimates the lost revenue to government through non-payment of tobacco duty alone to be £2.5 billion. HMRC derive these figures from analysis of seizures and operations conducted by Border Force, Trading Standards officers and police and the seizures of illicit tobacco. This often depends on 'tobacco dogs'.
Top dogs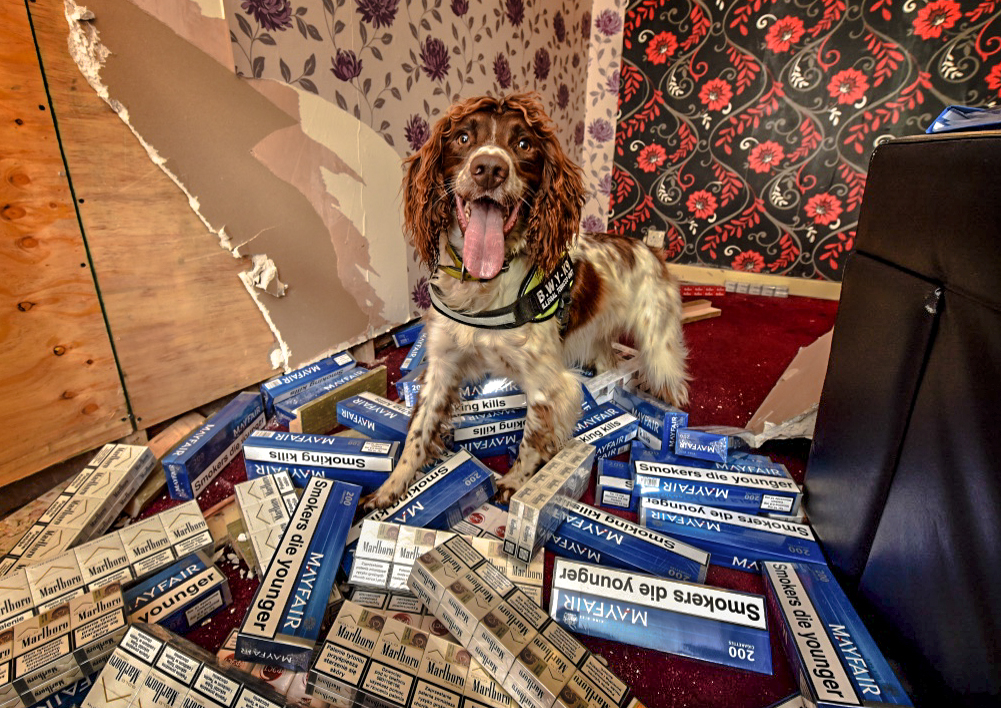 Stuart Phillips' top dogs are Scamp and Koko. Scamp has received several awards from Trading Standards authorities throughout the UK for his work. He's been acknowledged by the Anti-Counterfeiting Group, who represent the views of brand owners who operate at global and national levels. Stuart has collaborated with 108 Trading Standards teams. He says:
My dogs and I have built up personal relationships with hundreds of Trading Standards teams. We're getting coverage in local and national press. I've recently spent 10 weeks working on a documentary called 'The Dog Detectives' for the Discovery Channel.
Trusted teams
Stuart understands why he and his dogs are successful. He explains:
It's personal. I build up personal relationships with my dogs and my human partners in crime prevention. We trust and understand one another. All the enforcement officers I work with know me personally and we can discuss each operation carefully. We plan for success.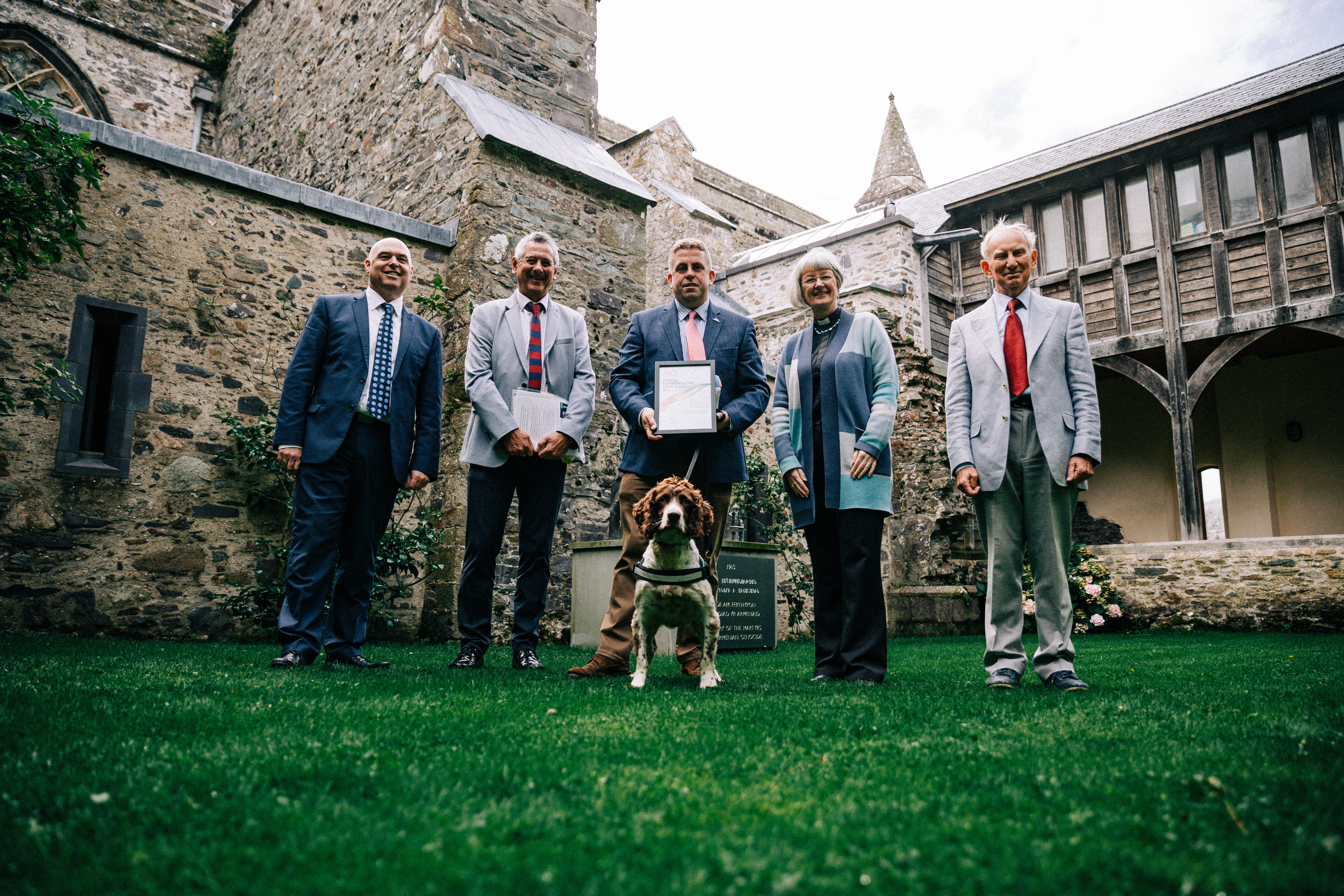 Stuart's work can take him from pop-up corner shops and mini markets around the UK, to container parks at major ports like Middlesbrough and Harwich. In a typical shop, hidden behind a trap door, or underneath a hydraulically moveable false floor, Stuart and his dogs find thousands of counterfeit cigarettes. On the quayside these numbers escalate to millions:
I can't smell the tobacco in the same way as Scamp does. But as I've gained experience, I find myself returning to the same locations time and again. I know how criminal gangs dress the 'mini markets' and 'one stops' like theatre sets to make them look legitimate. I'm delighted to say that my dogs and I are making a big impact on one of the most dangerous, aspects of intellectual property crime.

There are eight million stories in the naked city, and this has been one of them.