I loved attending New Designers for the second year in a row, talking to attendees about their creations and their intellectual property (IP). The atmosphere in the room is electric. Every corner you turn is bursting with vibrancy and ingenuity.
Last year I attended week 1, full of quirky fashion designers, jewellery makers and crafters. This year, I headed over to the London's Business Design Centre for week 2, which covered areas such as product design, illustrators and animators.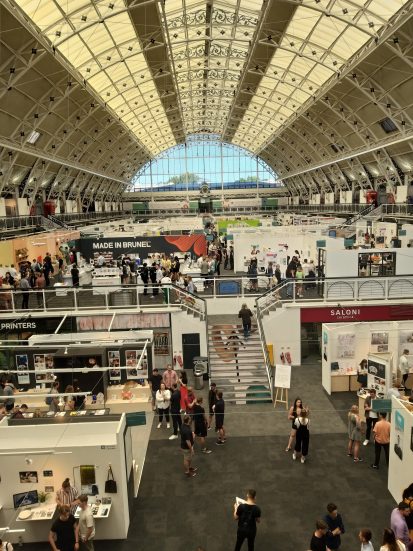 Protecting your creativity
During both years, the top questions we were asked centred around registering a design:
What can I register?
How do I go about registering?
Design registration protects the appearance or 'look' of a product, providing it is new and has individual character. A registered design can protect shape, configuration, pattern or ornamentation, or a combination of both.
Registering your design allows you to gain a marketing edge by preventing others from using it without your permission. Protection can last for up to 25 years, although you must renew every 5 years. You can apply to register your design online or by post, although it is cheaper to use the IPO's online service.
To learn more about registering your design and the benefits it can offer, watch our 'Sarah and George' series.
If you've decided a registered design is the right route for you, there are a number of things to consider. I spoke to Designs Examiner Sue Rogers, who highlighted some of the common pitfalls when applying for design registration:
One of the most common errors we see is when we receive an application which shows more than one design. There may only be slight differences in appearance, but in design terms this constitutes a different design. To counteract this, applicants are invited to file a multiple application (£50 for a single application and £70 for 10 designs filed in a multiple).

Another issue we encounter is when designs are not shown in full. Sometimes a corner will be cut off, or there will be reflections or shadowing which will spoil the representation. The representation also needs to be shown on a neutral background.
While it's important to properly prepare your illustrations, Sue also explains the importance in adding the correct details to the application:
On the formalities side we often get companies applying who are not limited. We must then check on the Companies House website to see if they are registered. If not, we write to the applicant to tell them that they cannot have a design registration in that particular company name. This can usually be resolved by changing to an individual's name, but if no response is received, the application is deemed abandoned.
Thankfully, Sue and the other Designs Examiners are on hand to help customers where they can:
It's always satisfying when you have written to an applicant and explained what needs amending and they then get it right.
It's not all about designs
Although most of the queries we get at New Designers relate to designs, we also get asked a lot of questions about trade marks and even patents!
Some creations may be protected by one IP right or all three, so it's important you know a bit about each one to decide what is the best form of protection for you. Our interactive learning tool, IP Equip, is a great place to start.
I'm already looking forward to attending New Designers next year and seeing what innovative designs and products people have come up with.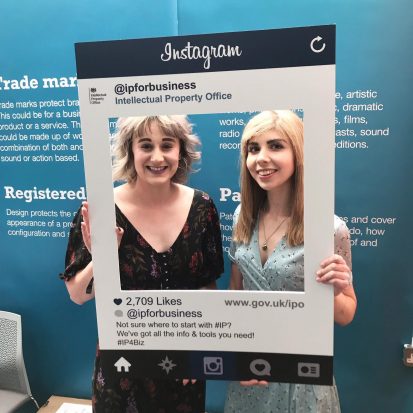 Want to keep updated with details of future events? Sign up to our email service and get tailored alerts direct to your inbox.

Don't forget to follow us on Instagram for tips, advice and highlights from events. You can find us at @ipforbusiness. Use the hashtag #IP4biz to get involved in the IP conversation.